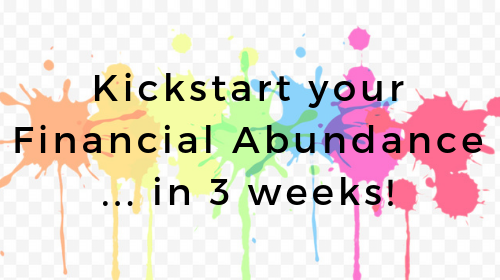 You crave abundance of money. You want a healthy relationship with your bank account. And you want to work with it not against in daily life.

---
Very few of us are happy with their money situation. We want more of it, we want more disposable income for the fun things in life and we want a shit load of it hiding in the bank for a rainy day (or monsoon season, depending on your goals and intentions).
But we struggle to improve our situation because we continue to follow the habits that have got us into this unacceptable space. We spend unnecessarily, we keep our heads in the sand when it comes to whats happening in our accounts, we overpay on things because we don't shop around, and generally we just watch it come in one way and go out the other, like tidy your bedroom requests between the ears of our children!
But you can learn to be better with money. You can learn new habits of spending. You can heal all the old bullshit you think and act on when it comes to money. You CAN!
Just because you've been stuck in LACK of money and wealth, doesn't mean you need to stay that way, and that's why you're ready to invest some of the money you do have in this course which will open you up to greater money awareness.
---
Here's a FACT for you then to get started ...
IF YOU CANNOT MANAGE YOUR MONEY NOW (AT WHATEVER LEVEL IT'S AT), YOU AIN'T GONNA BE ABLE TO MANAGE IT ANY BETTER WHEN IT HITS THE BIG NUMBERS ...
But you can LEARN to, and that's why you're here.

By enrolling in this course, YOU ARE MAKING THE CONSCIOUS CHOICE TO ...
HEAL YOUR RELATIONSHIP WITH MONEY - NOT IGNORING YOUR PAST LACK!

KNOW EXACTLY WHATS HAPPENING IN THE BANK - NOT HIDING FROM YOUR BANK STATEMENTS!

GET IN ALIGNMENT WITH FINANCIAL ABUNDANCE AND KNOW WHAT MONEY NEEDS FROM YOU IN THE FUTURE!
---
IF YOU WANT FINANCIAL ABUNDANCE IN YOUR LIFE, THESE ARE THE 3 THINGS YOU NEED TO HAVE A HANDLE ON IN ORDER TO MAKE IT HAPPEN ...
AND THIS COURSE WILL TEACH YOU HOW TO DO JUST THAT!
CLICK ENROL TO LEARN THESE LIFE-CHANGING THINGS!